Would you like to save 15% on your pet's parasite control every year?
Here you can find all you need to know about our Healthy Pets Club: full preventative healthcare with a convenient monthly payment plan. Have a look through all the details and advantages of joining, and if you have any queries or would like to join, give us a call on 01380 728505.
Prevention is so much better than cure.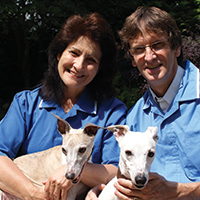 As a pet owner, isn't it better to think of keeping your pet healthy rather than waiting for problems to arise and then deal with them?
New Challenges
New diseases and parasites are appearing in the UK, some of which can be serious e.g. lungworm, Ehrlichiosis and Lyme Disease.
We believe that the risks from these diseases are real and the only way to safeguard your pet, and family, is to protect them from infection where possible.
We have, therefore, put together a comprehensive disease and parasite control programme as the best way to ensure your pet's health.
There is no single product that can do it all and we only recommend products that have been tested together and licensed for the purpose.
Catch it early!
We also recommend regular professional health checks at all stages of your pet's life to help you keep them in tip-top condition and spot the early signs of problems.
Regular health checks by our veterinary team can detect early signs of disease such as dental problems, ear infections, heart disease, diabetes and increased blood pressure.
Our vets will carry out a full examination once a year and give the annual vaccinations.
Our clinic nurses will give your pet regular health checks and help you with nutrition, dental care, administering parasite control, behaviour, grooming and any other concerns you may have.
They also offer Slimming Club, Perfect Smile and Senior Health advice clinics to all three species.
---
What's included in the Healthy Pets Club plan?
Essential Vaccinations
Dogs: Distemper, Parvovirus, Hepatitis, Leptospirosis. Cats: Feline Enteritis, Feline Leukaemia, Cat Flu. Rabbits: Myxomatosis, Rabbit Haemorrhagic Disease 1 & 2.
We aim to reduce the number of vaccine doses that your pet will need and, with modern vaccines, this means that Distemper, Hepatitis and Parvovirus now only need an injection every 3 years.Similarly Feline Enteritis boosters are given every 3 years; however, the protection for Leptospirosis, Cat flu, Myxomatosis and RHD still require a booster every year to be sure they are protected.Our Leptospirosis vaccine has recently been upgraded to cover two new strains of the disease that have emerged as a threat.

Each booster also includes a full health check by the vet at the same time.
Full Parasite Prevention
Dogs & Cats: Roundworm, Hookworm, Tapeworm, Fleas, Ticks, Lice, Mange, Ear & Harvest mites, Lungworm (dogs only)  Rabbits: Flystrike
Regular comprehensive treatment for internal and external parasites with the appropriate products can prevent your pet from becoming a risk to itself or other pets and humans. There are no non-prescription products that can give you this full level of cover.
Free Unlimited Nurse Health Checks & Advice Clinics
Routine health checks, Slimming Club, Senior Care & Perfect Smile Clinics
Your Club membership entitles your pet to checks every 6 months as well as any number of free advice and maintenance visits for nail clipping, dematting, anal sacs etc. This is in addition to the annual vaccination exam.

We are now delighted to offer regular quarterly postal delivery of your parasite control products, included in your plan. Please ask about this when discussing your plan with our nurse.
| | |
| --- | --- |
| Plus discounts on many other products and services | |
| Neutering | 10% off |
| Microchipping | Only £15.00 |
| Blood Screen for Senior Pets | 10% off |
| Vet Check for Senior Pets (on Nurse Referral) | 10% off |
| Dental Scale & Polish | 10% off |
| Pet Food | 5% off |
| Prescription Food | 5% off |
| Reception Sales (including toys, chews, shampoo…) | 5% off |
| Feliway/Adaptil | 5% off |
| Kennel Cough Vaccination | 10% off |
| Rabies Vaccination | 10% off |
---
What does it cost?
Small

Under 10kgs

Medium

10-20 kgs

Large

21-40 kgs

V. Large

41-50

kgs

Giant

Over 50kgs

Cat

Rabbit

Essential Vaccinations
Full Parasite Prevention
Routine Healthcare
Nurse Advice Clinics
Monthly Cost
£12.57
£15.14
£18.32
£22.75
£26.97
£12.58
£9.56
Minimum Annual Saving
£26.61
£32.06
£38.79
£97.30
£57.12
£26.65
£20.24
Your monthly cost is equivalent to a minimum 15% discount on all your parasite prevention and vaccinations. In addition, you have unlimited access to free nurse health checks.
Having read through all the details of the Club, and the advantages of joining, if you have any queries or would like to join, please give us a call on 01380 728505.
---
Terms and conditions do apply: please click here to read them.