We offer the following nurse clinics to all of our registered clients to complement the lifelong care we provide for your pet. These are run by a select team of experienced, Registered Veterinary Nurses.
For Healthy Pets Club members, these are free of charge, with the exception of the Behaviour and Senior clinics. To our other clients, charges apply for some clinics (shown below).
In addition to the following, our nurses are able to offer appointments for nail clipping, anal gland emptying and can provide a full range of healthcare advice. These appointments are available to book every day including Saturdays.
---
Getting a new pet? Come in for a pre-purchase chat >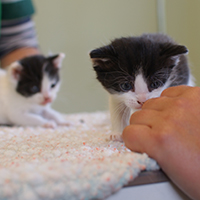 Thinking of getting a puppy, kitten or rabbit? Then this clinic is ideal for you. We can discuss the health and welfare needs of each pet and offer advice about choosing the right pet/breed to suit your lifestyle. Come and see us, either before you make the decision, or before you pick up your new family member, to ensure you get their start with you just right.
FREE for all our clients.
Cuddle Clinic: introduce your pet to the vet!
Once you have your new, young pet and they have had a health check with one of our vets, book a Cuddle clinic. Here we can talk through any early concerns you may have about training and husbandry, whilst getting your pet used to being handled in the surgery. To ensure your pet stays fit and well, we will discuss preventative healthcare in full.
FREE for all our clients.
Weigh and Worm >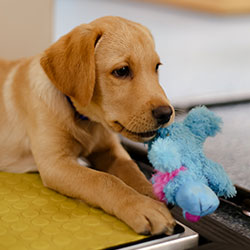 While your puppy or kitten is growing, we can offer a monthly appointment to weigh them and calculate and administer worm treatments. Once their weight stabilises, we are able to provide you with a longer course of medication to keep them parasite free.
£5.26 inc. VAT
FREE for Healthy Pet Club Members.
Puppy Parties >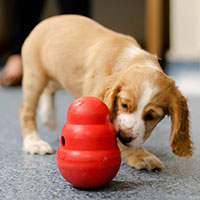 Evening classes for puppies that have received their first vaccination. These enable important socialisation with other puppies and people during the receptive phase of your puppy's development (3 – 14 weeks).
Our experienced nurses are on hand for training and health advice and you can share your experiences with other clients whilst having lots of fun! This also helps your puppy feel comfortable visiting the practice, which is a major benefit for future visits.
After 3 sessions, your puppy will graduate with a certificate, a rosette and their photo will be put up on our blog!
FREE for all our clients.
Rabbit Clinics >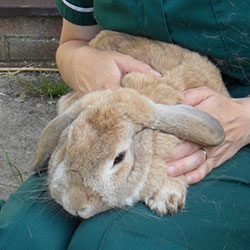 We recommend that rabbits are checked by a nurse, every year, 6 months after their vaccination. This ensures biannual examinations to discuss or identify any health problems. Rabbits are very good at hiding signs of illness, which can lead to a delay in identifying any underlying issues.
During the appointment, your rabbit will be weighed, examined and have their teeth checked. This is also a chance to discuss any husbandry queries you may have.
£15.74 inc. VAT
FREE for Healthy Pet Club Members
Adolescent Health Check >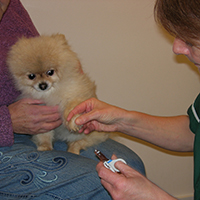 This check is a follow-on from the initial vaccinations and puppy parties. When your dog reaches 5 months of age, we recommend this health check, offering a chance to review weight, diet, exercise and any behavioural changes that have occurred since puppy-hood.
We can also discuss neutering, long-term parasite control, to ensure your pet is full of health and vitality as they continue to grow and become an adult.
£15.74 inc. VAT
FREE for Healthy Pet Club Members
Weight Clinics >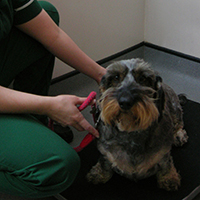 Obesity is a major health concern for many pets, leading to a range of complications including joint disease and pain, heart disease, diabetes and exercise intolerance. This can be addressed through our individual nurse weight clinic.
An initial appointment will assess your pet's weight and the weight loss required. The nurse will then offer you a tailor-made plan to ensure your pet can lose weight safely and gradually, whilst avoiding increased hunger. Follow up appointments are then made to offer support and follow your pet's progress.
We believe this to be such an important issue for your pet's health and wellbeing, we offer these clinics for FREE to all our registered clients.
Dental Clinics >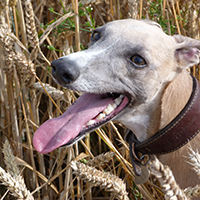 Just like us, cats and dogs' teeth need to be cared for to avoid pain, plaque and tartar build-up, which can lead to gum disease and tooth loss. The nurse can offer help and advice on keeping your pet's mouth healthy and smelling fresh.
A nurse dental clinic appointment is included after a dental procedure, to produce a tailor-made hygiene routine, to keep your pet's teeth and gums healthy and avoid repeated need for treatment under anaesthetic.
£15.74 inc. VAT
FREE for Healthy Pet Club Members
Behaviour Clinics >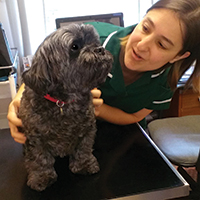 Do you have a flighty feline or cowardly canine? Our experienced behaviour nurse, Leanne Layfield, can offer support and advice on how to deal with any inappropriate or unwanted behaviour.
The initial appointment will be for 1hr 15m to allow a full discussion and tailored planning. Follow up appointments can be made as required. Simple issues can be dealt with if you follow instructions carefully. On occasion, referral to one of our veterinary surgeons or an outside behaviourist is necessary.
Initial Consultation £29.45 inc. VAT
Follow up Consultations £13.99 inc. VAT
Senior Clinics >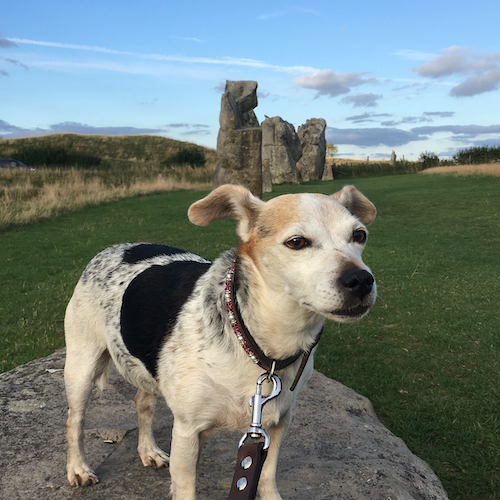 Once your cat or dog reaches 7, we consider them to be entering their 'senior years'. Therefore, we feel that regular health checks are important to pick up ageing changes, which can then be monitored and addressed as appropriate. During your appointment, we can provide a clinical examination with our qualified nurses, blood pressure monitoring and urine testing.
In the case of many conditions, early identification and treatment can avoid serious and rapid health decline and mean your pet has many more healthy and happy years ahead. If necessary, the nurse will advise an appointment with one of our veterinary surgeons for diagnosis and treatment.
£15.74 inc. VAT