In-patient Care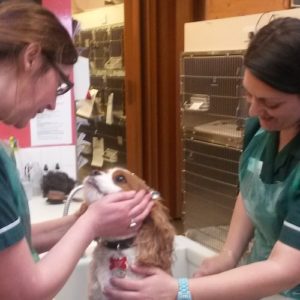 We have excellent facilities for long-term hospitalisation of patients in comfortable accommodation with round-the-clock expert nursing care.
Our canine patients stay in a large air-conditioned ward with kennels suitable for all sizes of dog; there are bathing and showering facilities and access to the secure garden. Cats have their own ward, and we also have a separate isolation area.
We encourage owners to visit their pets and to feel involved in their treatment. During their recuperation, our in-patients have access to physiotherapy, laser therapy and hydrotherapy.
Surgery
We offer excellent surgical care in both expertise and equipment. In the surgical suite, we have a large central preparation area with an adjoining imaging suite (with x-ray, CT and Ultrasound scanning), two sterile operating theatres and a dedicated dental theatre.
Undergoing surgery is safer than ever for all patients, including the elderly, and we regularly operate on rabbits and small pets. We are part of a regular screening program for pathogens and MRSA bacteria.
As an orthopaedic and ophthalmology referral service, we carry out state-of-the-art procedures such as total hip and elbow replacement, arthroscopy, spinal surgery and delicate corneal surgery. These techniques demand high standards of sterility and anaesthesia, and the same quality is applied to all our surgical patients.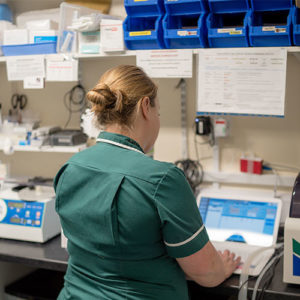 Diagnostics
For the early detection of disease, full analysis of the problem and on-going monitoring is all-important. We have a well-equipped in-house laboratory able to run blood and urine tests at any time of day or night. This allows rapid diagnosis for emergency cases and on-site screening. We also use a specialist pathology laboratory for complex tests and Expert interpretation.
After an initial examination of a patient, further investigation can involve our behind-the-scenes facilities:
radiography (x-rays) can be used to image the soft tissues as well as bones;
ultrasound and ECG are frequently used to image the internal organs such as the liver, bladder, uterus and heart;
blood pressure measurement is used for the early detection and monitoring of hypertension, commonly seen in thyroid and kidney disease;
we use endoscopes to get a view inside stomachs, noses, airways and joints.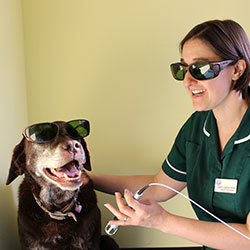 K-Laser Therapy
We now offer our patients 'K-Laser' therapy. This tried and tested treatment offers drug-free, surgery-free, and stress-free pain relief, and has been shown to help in a wide range of cases, including osteoarthritis, post-surgical pain, chronic wounds, and hip dysplasia.
Dentistry
A healthy mouth is vital for your pet's wellbeing. We have a well-equipped dental suite with sophisticated equipment for ultrasonic scaling and polishing of healthy teeth, as well as radiography and the surgical extraction of diseased teeth. We then recommend regular follow-up appointments with our dental nurses to maintain oral health.
Visiting Specialists
---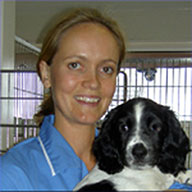 Ophthalmology: Ida Gilbert BVSc CertVOphthal MRCVS visits us weekly to offer referral opinion ophthalmology services.
Learn more about our Referral services >
---
Physiotherapy: Emily Last BSc (Hons), PGDip, MCSP, ACPAT (Cat A), MCHA visits us fortnightly to offer physiotherapy services to in-patients and out-patient referrals.
---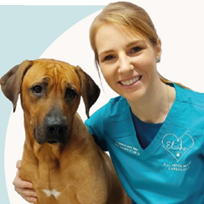 Cardiology: Dr Emma-Louise Waller Visits fortnightly to offer referral opinion cardiology
Appointments
Consultations are by appointment and are available throughout each day. You can call us on 01380 728505 or request an appointment on Petsapp. Please be aware that Petsapp is only monitored between 8am-5pm Monday – Saturday.
In the event of an emergency, please call us on 01380 728505 and press option 1.
Appointments are 20 minutes long, but if you would like longer please let us know in advance. It is very important that we are able to discuss your pet's problems fully and the different treatment options available. However, we will always attend to emergency cases as soon as possible and this may disrupt schedules!
Continuity of Care
As a practice, we feel it is important to maintain a continuity of care with the same vet. However, as we all take our share in the evening, night and weekend rotas we do not all work every day and so your pet may be cared for by more than one vet. Detailed clinical histories are stored on computer and we confer regularly over cases. If you wish to see a particular vet please let reception know when making your appointment.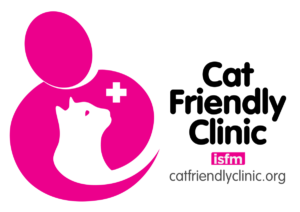 Gold Award Cat-Friendly Clinic
We are a GOLD Standard Feline-friendly Clinic, as awarded by International Cat Care. Click here to learn more about how we work to ensure your cat has the most comfortable visit possible.
We offer regular cat-only clinics (by appointment only) on Thursdays (6pm – 7pm).
We have a separate waiting area for cats, a bespoke cat-only hospital ward, and a passion for "cattitude".
Learn more about the Cat-Friendly Clinic Award >
Nurse Clinics
We offer a variety of specific nurse clinics to all of our registered clients to complement the lifelong care we provide for your pet. These are run by a select team of experienced, Registered Veterinary Nurses. They are free to our Healthy Pets Club members.
Learn more about our nurse clinics >
Payment Policy
Payment is due after each consultation, and we accept all major payment cards except American Express, as well as Apple Pay & Google Pay.
Please also take time to read our terms and conditions.
Pet Insurance: Buying peace of mind
People tend to think it's only older pets that get ill and therefore younger pets don't need pet insurance but we know from the patients we see each day that that is not the case.
In fact, the younger your pet is when you insure them, the better, as it means you are less likely to have any existing conditions, which may not be covered by the policy and you can then receive more help covering the cost of any future treatment your pet needs.
It is important to note that not all pet insurance is the same. There are many different types of policy available and the level of cover provided can vary considerably. The four main types of policy are as follows:
Accident: provides cover for accidents only and no cover for illness
Time-Limited: provides cover for a set amount of time (usually 12 months) and after this period the condition is excluded
Maximum Benefit: provides cover up to a maximum amount of money per condition and once this limit is reached the condition is excluded
Lifetime: provides a set amount of money each year which is refreshed each time you renew your policy allowing you to continue to claim for ongoing conditions
As you can see from the information above, the type of policy you choose can have implications for the veterinary care of your pet and the costs you will face so it's important to choose the right cover. Sometimes, the cheapest insurance can cost you more in the long run. When shopping around for a policy, we suggest that you ask the following questions to allow you to compare the overall value you are getting, not just the price:
Does this policy cover congenital, hereditary, hip-related, dental and behavioral conditions?
Is there a time or monetary limit on how long this policy will cover ongoing conditions for?
If I claim, will my premium increase?
Unlike other forms of insurance, it is not easy to switch pet insurance in the future as any pre-existing conditions your pet has are likely to be excluded so it's important to do your research and choose the right cover from the start.