Capture your Pet's paw print in Pure Silver
We understand how quickly your furry friends grow and how important it is to have a beautiful keepsake that captures those special moments.
Choose from a wide range of pendants, charms, keyrings and cufflinks in 99.9% pure polished silver with the option of 24ct gold detailing. Each piece is individually commissioned, handmade and unique, creating the perfect gift for every occasion. We stamp every piece with the registered hallmark ensuring a high standard of quality with every charm.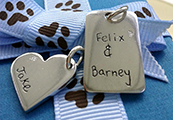 Also available is our Remembrance Charm, allowing you to treasure your pet now and forever, long after they're gone. We also include a free engraving service, with the name and date of your loved one on the back of your piece.
Creating your keepsake couldn't be easier. We use the print taken from an inkless non-toxic wipe and sensitised paper, miniaturise it to ensure all detail of the print remains, then transfer it into the silver or gold creating a bespoke piece. It is then beautifully gift-wrapped and ready for the recipient.

We keep all print moulds on file to ensure your jewellery is always preserved and available incase of loss or damage, or if you would like any additional pieces in the future.
Our charms come in a variety of shapes and sizes to fit your needs and style:
• Circle • Oval • Teardrop • Heart • Funky Heart • Dog Tag
All charms are available in small, medium and large. Cufflinks are available in a circle or square and are a standard size.
Our new Portrait Charm captures your pet's portrait using a photographic image.