Last modified: 08-06-2020
Dear Clients,

Here at Macqueen Vets, we are taking COVID-19 very seriously, and are endeavouring to prevent its spread through our team, practice, and our clients. Please be assured that during this difficult time we will be taking every reasonable step to maintain our services and provide the best care for your pets.

We appreciate that you are taking the time to read our guidelines below and for your consideration of our staff, other visitors and their health alike.

Thank you

Ian, Jacky and the Team
Although the lockdown restrictions are being eased, we are still working under safe principles, with social distancing and by reducing person-to-person contact as much as possible, for everyone's safety. Therefore, we have introduced some new services to allow us to see as many pets as possible without compromising our care and your safety. If you think that you might need us, please phone the practice first, and ask that you do not come unannounced. If your pet has had a major accident, is bleeding or having trouble breathing we can see them as a matter of urgency. Other cases can now have a consultation with a vet by telephone or via our webchat and video portal PetsApp, which can be downloaded from our website. We can often avoid the need for you to bring your pet to the surgery and, during this pandemic , we are permitted to prescribe medicines and treatment remotely. Where necessary, if such a consultation means that we will need to see your pet, an appointment can be made (please see below for guidance).
---
If you need to come to the surgery:
• To reduce the numbers of people waiting at the surgery, and therefore the spread of infection, please give us a call when you have arrived outside the surgery, by telephone, and we will let you know as soon as the vet or nurse is available to see you.
• We will ask you to remain in your car while the vet or nurse brings your pet into the building and examines them. Cats and rabbits should be in a secure, clean basket and dogs on a lead that can easily be removed. The vet will then communicate with you by phone or video call. Please be sure to have a working phone with you.
• You will be requested to pay at the time. We can accept all major credit cards remotely. We are not taking cash or cheque payments at this time.
This video shows what socal distancing measures we have in place so you know what to expect:
---
Vaccinations
We are prioritising vaccinations for puppies, kittens, rabbits and first-year boosters, as these are the most vulnerable animals. Adult dogs and cats who have been vaccinated in the last year, should have at least 3 months protection beyond their booster date. We will be contacting you as soon as we can to catch up with the delayed injections, starting with those who are most overdue. We will also be giving Rabies boosters for those dogs and cats on the Pet Passport scheme.
Neutering
While there are undoubted benefits from having dogs and cats neutered, these operations are also having to be prioritised for cases where there is a welfare issue e.g. where it is not possible to keep your cat indoors or if you have entire males and females living together.
Please phone the practice or open a PetsApp chat if you have any questions about neutering or vaccination. There is advice from the British Small Animal Veterinary Association in the Additional Resources below.
Healthy Pets Club
We can now offer a free upgrade to postal delivery on all your parasite control products. Our nurses continue to offer free nurse consultations by video.
Repeat medications
When appropriate the medication health check may be carried by video consult. Please give us 48hrs notice to process medicine requests. We are also happy to personally deliver medicines.
---
We kindly request owners not to bring their pets to the surgery:
• you, or members of your household, are self-isolating because of a suspected or confirmed case of COVID-19.
• if you have been confirmed, are suspected of COVID-19, or are self-isolating, and urgently need your pet to see a veterinary surgeon, please arrange for a friend or family member from outside your household to bring your pet to the surgery. We may not be able to make home visits in these circumstances. Please see further advice at the end of this document.
---
Clients who are shielding
We are also concerned to maintain our services for our most vulnerable clients. While we are hoping that everyone can stay healthy, we believe that having a plan in place gives great peace of mind. If you are in the category of 'vulnerable' (and we appreciate the official guidelines are changing rapidly) please consider taking the following steps:
• Please make a plan for your pet's everyday care in the event that you are taken into hospital. This way you can be reassured that you will have nothing to worry about for your pet's wellbeing.
• If you live alone, please ensure that there is a friend or family member who has a key to your house, in the event that your pet needs care in your absence. For more recommendations, please see our advice for older owners.
• Please share any concerns about your plans with us, we are here to help.
• you can consult the NHS and government websites for your personal health advice.
---
If you are diagnosed positive for the coronavirus:
• If your pet requires care, wash your hands before and after any interaction with them.
• Keep cats indoors if possible and try to arrange for someone else to exercise dogs, taking care to restrict any contact with your dog walker and making sure that they practice good hygiene. This is to reduce the likelihood of your pet spreading the disease through environmental contamination on their fur or lead – there is no evidence that pet animals can spread the disease or that they become sick themselves.
• If your pet shows any signs of illness, please call us for advice, before coming to the surgery.
• If your pet requires emergency treatment, call us for further advice. Do not bring your pet to the surgery unless the vet instructs you to. You may need to arrange for someone else to transport your pet for treatment. We may not be able to make home visits in these circumstances.
---
This situation is evolving and changing rapidly, so we will continue to monitor the situation and update these guidelines as necessary. We really appreciate your co-operation.
We will continue to endeavour to provide you and your pet the best possible care during this difficult time.
Thank you,
Ian, Jacky and the Team
---
Additional Resources
This flowchart gives a basic overview of the guidance we are following during this time when taking on clinical work, to ensure the maximum safeguarding for all staff, clients and patients alike…[Download]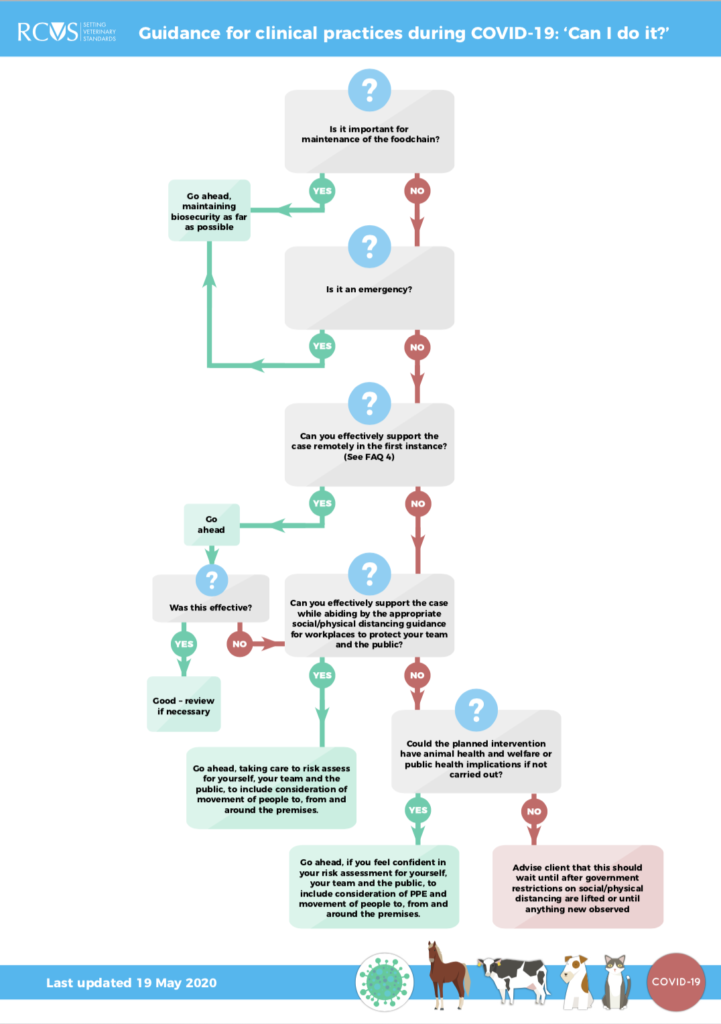 We are living in very unusual times. Social distancing and staying at home due to COVID-19 restrictions is having an impact on everyone. It is inevitable as we change our routines that the animals who live with us are affected too…[Download]
For many dogs, going out for a walk is an important part of their daily routine. However, measures introduced to reduce Coronavirus mean that lots of owners won't be able to do this so may be relying on others to help them. If you have offered to walk someone else's dog, here's some guidance to help keep everyone safe…
If you have recently welcomed a puppy into your household, then you may be worried about the impact of the restrictions related to the COVID-19 outbreak on your puppy's development and well-being. These guidelines are intended to help you and offer advice at this challenging time…[Download]
For those dogs who struggle with stress and anxiety, having the family at home will have both positives and negatives. For the dogs who seek social contact, this may be…[Download]
The ABI is reassuring pet insurance customers that its pet insurance members will be offering enhanced help and support through a number of pledges to customers who may understandably be concerned about the health of their pet during the Coronavirus outbreak….[More]
Many cat owners are now working from home, self-isolating or social distancing. While cats are pretty adaptable and may well enjoy having owners at home, there is also a lot of discussion asking if pets can spread coronavirus, should they be allowed outside (if they normally go out) and what to do if you have contracted the virus…[Read More]
Speaker: Vicky Halls RVN DipCouns Reg. MBACP Join International Cat Care's Feline Behaviourist Vicky Halls to find out what you can do to make sure your cat's needs are met during restrictions put in place to help combat the Covid-19 virus….[Read More]
If you have recently welcomed a kitten into your household, then you may be worried about the impact of the restrictions related to the COVID-19 outbreak on your kitten's development and well-being. These guidelines are intended to help you and offer advice at this challenging time…[Download]